When spring is infinitely good, Waters will pass on the winning bid again!
Recently, Beijing Construction Engineering Group Co., Ltd. released the winning results and announced that Tianjin Tanggu Waters Co., Ltd. successfully won the bid for the municipal transportation supporting project of Beijing New Airport Airport Airport Economic Zone Yongxing Hebei Road (Daguang Expressway ~ Cida Road) road and utility tunnel project valve procurement, the bid amount is 18951314 yuan.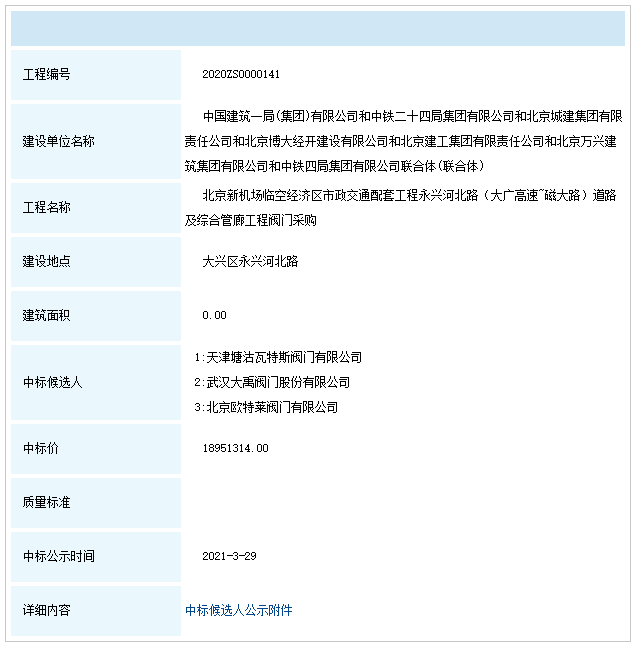 Beijing Daxing International Airport Airport Airport Airport Economic Zone, a total of 150 square kilometers, of which Hebei part is about 100 square kilometers, Beijing part is about 50 square kilometers, the overall positioning of the international exchange center function bearing area, the National Aviation Science and Technology Innovation Zone and the Beijing-Tianjin-Hebei Coordinated Development Demonstration Zone will build production and living supporting facilities that directly serve Daxing Airport by 2025, and initially form Beijing-Hebei joint construction and management, economic and social stability, high-end industry, modern green airport economic zone with convenient transportation and beautiful ecology.
With first-class research and development strength, excellent product quality and perfect sales and service system, Waters has repeatedly won the bid for important national projects, such as South-to-North Water Diversion, Yellow Water East Diversion, Capital International Airport, Qinshan Nuclear Power Station, shanghai Pudong International Airport and other projects, and exported to the United States, India, South Africa, the Philippines, Vietnam and other 70 countries and regions, while consolidating the company's valve market position, it is also developing and manufacturing more kinds of valves.